Sunday Worship Times
9:30 a.m. & 5:00 p.m.
Welcome
Come and join us!
We enjoy meeting new friends .
You will feel at home with us.
We are a variety of ages, occupations & backgrounds.
We all share a love for the LORD and each other.
Office Hours
Tuesday, Thursday & Fridays
8:00 a.m. - 3:00 p.m.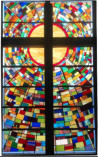 303 E. Elm
Wayland,MI 49348
269-792-2828